時間一晃又是幾個月過去~ 紐約公立學校的教師加上兩個孩子的媽就是無止盡的忙啊~~趁暑假來趕一下進度!
*繼1/13/19寫過的Family Concerts Part 1 – Carnegie Hall Family Day & My City, My Song (點連結看上篇文)
這個紐約市親子音樂會介紹系列第二篇文,當然要提到在紐約跟卡內基廳同等級的~~~林肯中心啦!Here comes the NYC Family Concerts Series part 2: Lincoln Center!
Family Concerts in NYC Part 2: Lincoln Center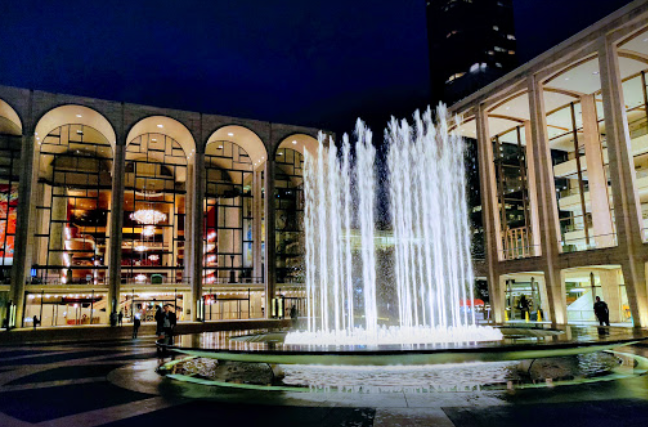 –LC Kids: 在這個頁面中可以瀏覽所有的Lincoln Center Family Events, 包括音樂,舞蹈,戲劇等所有表演藝術類活動。如果一年投資$125可以成為會員,可以用折扣價購買不同的藝文表演或是優先獲取活動資訊 (我沒有加入會員過,因為紐約市免費的藝文活動已經不少,而並不會頻繁地參加購票音樂會的部分,不過住Lincoln Center 附近的媽媽還是可以考慮喔)。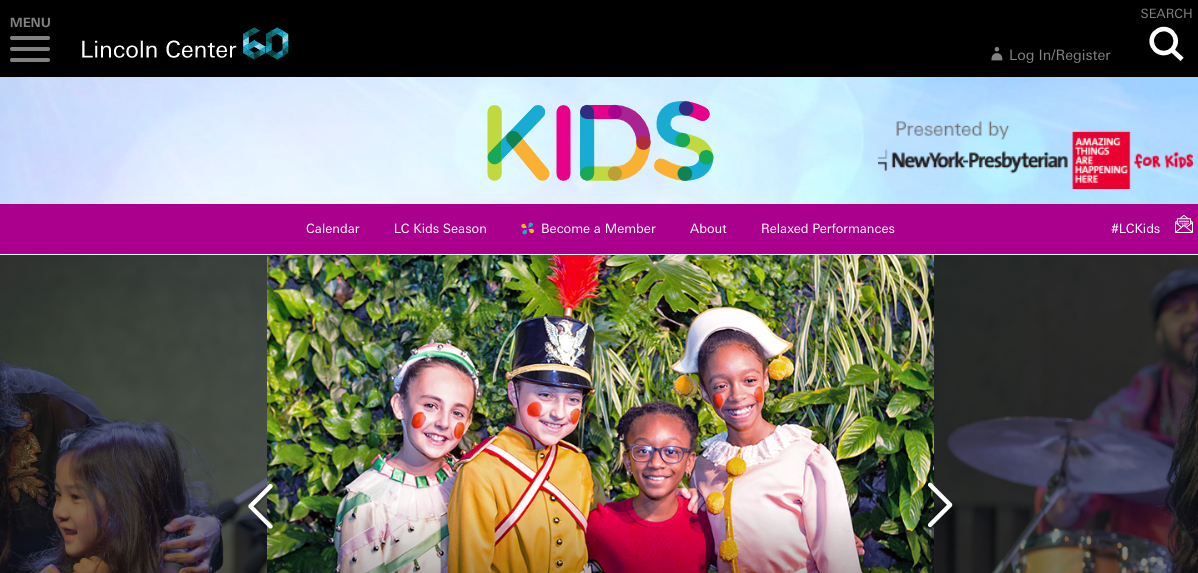 其中幾項有關音樂的: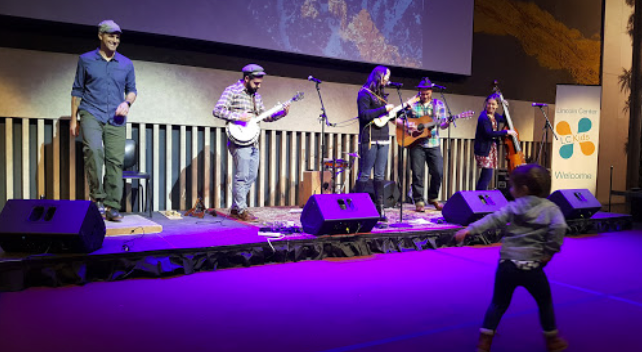 *附註: 這個場地在週間常常有免費的音樂表演,按這裡看最近的表演行程!
CMS Family Programs: 這是林肯中心室內樂籌辦的適合家庭的音樂活動1)"Meet the Music" 就是針對6歲以上孩童舉辦的室內樂音樂會,一學年度中在Alice Tully Hall (Broadway/66th St) 會舉辦三次家庭音樂會 (2019-2020年度是November, January, April 時會有音樂會),每場針對不同的古典音樂家的作品或是特定音樂主題來設計音樂會內容。票價每張約$10-$30。值得一提的是,音樂會開演前45分鐘可以先帶孩子到場,在音樂廳外場會開放不同的樂器讓孩子們體驗試奏-Musical Instrument Petting Zoo. 2019-2020 的音樂會日期請按這裡!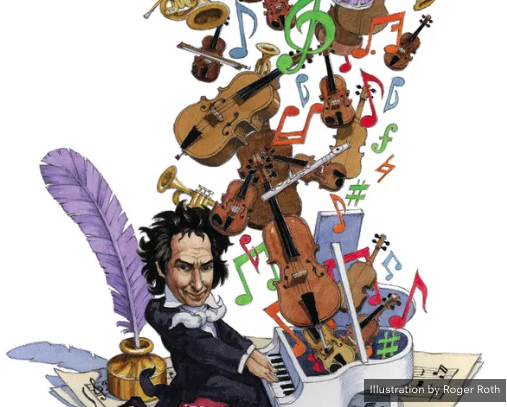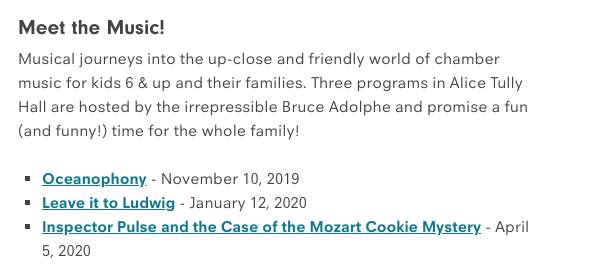 2) "CMS Kids": 這是比較設計給有特殊需求的孩子們的類音樂會體驗,在比 較小型的場地(Rose Studio),卻有令人放鬆,極具教育性的音樂表演。一學年度裡舉辦三次 (October, March, April)。2019-2020 的CMS Kids 音樂會日期請按這裡!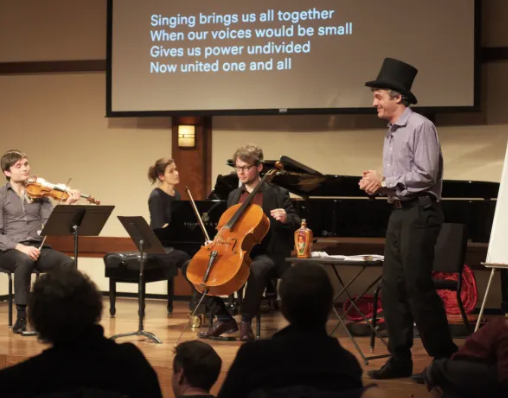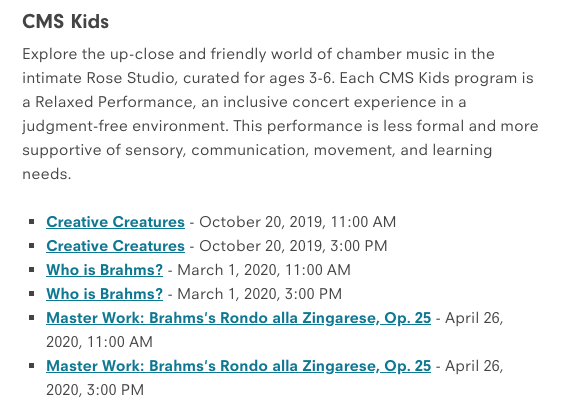 Jazz at Lincoln Center Family Concert: 喜愛爵士的家庭可別錯過這個一年兩次的音樂會,我最喜歡這個家庭系列音樂會的部分除了能欣賞超醉人爵士音樂之外,還有超享受的360度環繞的Rose Theater音樂廳可以讓自己好好放鬆地沈醉在浪漫樂聲中! 每場會有音樂家兼主持人介紹一位傳奇指標性的爵士音樂作曲家的生平故事和代表性作品!別忘了音樂會開始之前早45-60分鐘到現場,可以在能俯瞰Columbus Circle 美景的 Ertegum Atrium 帶孩子做跟音樂家相關的美勞手作活動喔! Jazz Lincoln Center is located at Broadway & 60th Street. There are two family concerts happening at Jazz Lincoln Center throughout the year. You may want to bring kids to Ertegum Atrium 45 minutes prior to the concert for some art & craft activities related to the concert theme.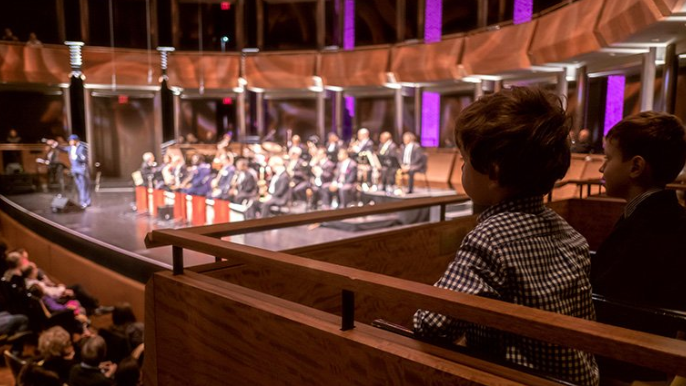 就在撰寫本文當下,發現了下週末8/3/2019在林肯中心的有Family Day, 如果有時間,不妨帶著孩子前往欣賞,活化孩子的表演藝術細胞吧~~Don't miss out the Family Day, which will be happening Saturday August 3, 2019!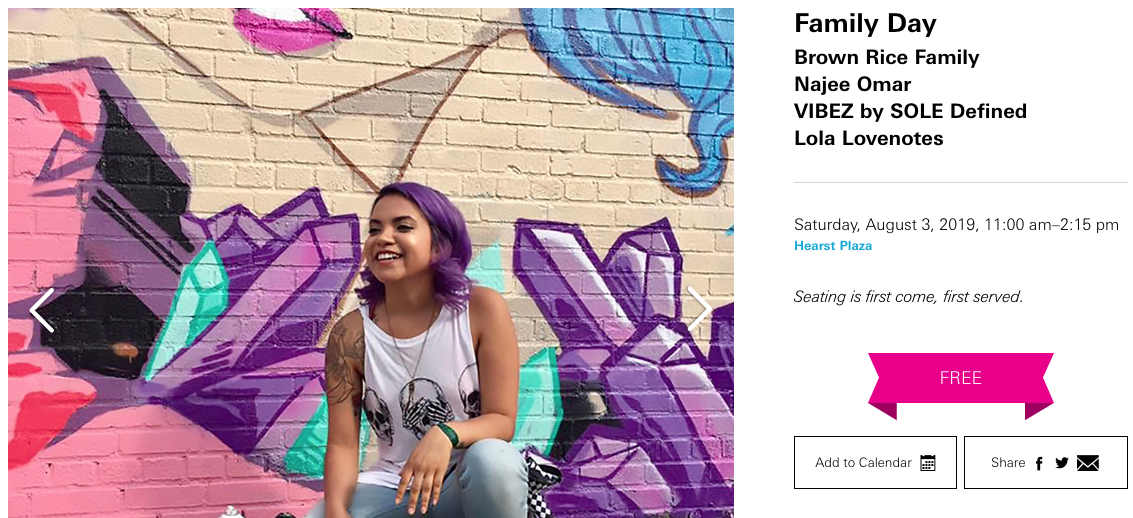 還有,下次經過林肯中心時,停下腳步看看林立人行道上的活動看板,相信妳一定可以找到1-2個有興趣的音樂活動表演!You may find some great music events from these event banners by Lincoln Center Alice Tully Hall. (Broadway between 65th & 66th street)