I was very happy when I found this youtube channel – Fun to read Chinese. Below is the list of the books in their playlist.
最近又發現了一個不錯的中文故事閱讀網站,包含了好幾本著名美國經典故事繪本,日本的鼠小弟故事系列,還有三個級別的有聲書系列。家長和老師們可以好好利用這個免費的資源喔!
1) Classic Children Picture Books, including My Dad, Little Blue and Little Yellow, Crocodile Scared, Dentist Scared, Rosie's Walk, David Gets in Trouble, David Goes to School, No! David, Very Hungry Snake, and Carrot Seed.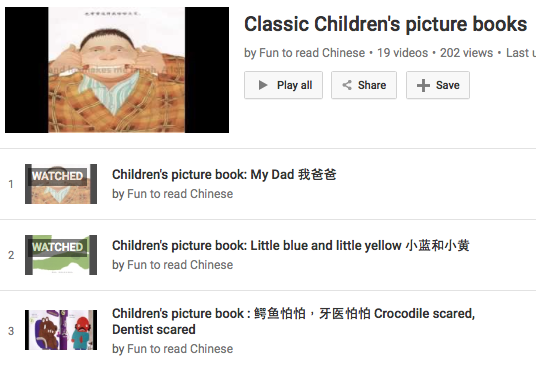 3) Picture Books – Little Mouse Book Series 鼠小弟故事系列